Hi guys!!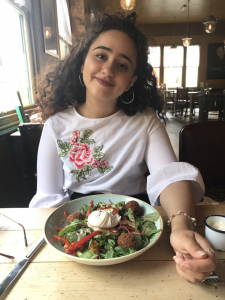 Welcome to Tizard Hall!!! I'm Eva and I'm a third year medical student (nearly half a doctor). I'm half Canadian, a quarter Sudanese and a quarter Bulgarian, but I've lived in Cornwall for the past few years so if you're ever lost for a conversation topic, we can always talk about that. Or my not-so-great cooking (I had half-raw chicken 3 times during first year). Or my questionable jacket choices (you'll see the iconic vintage jacket I refuse to give up). If I'm not in, I'm probably playing netball, having captained ICSM's Socials team last year, or trying to learn some *impossibly hard* Spanish phrases (someone please teach me). I'm also a big fan of going out, so if you're keen for clubbing suggestions around London, I'm the girl for it.
Having had a phenomenal time living in Southside halls in first year, I've come back as hall senior and I want to make sure each and every one of you have the same experience, if not better, this year. First year is amazing, and there's so much to do around here, it's hard to imagine any dull moments. Try and make the most of it and say yes to everything! (well, most things…) Moving to London and away from home is super exciting, but can potentially be daunting and you might have moments of uncertainty or stress, and I want to make sure you always have someone to talk to if you needed it – my door's always open for a chat, and I'm always up to listen to a rant, or go for a walk around Hyde Park, or a Wasabi sushi trip.
I can't wait to meet all of you and I hope you have the most incredible time staying at Tizard this year, and I'm super excited to experience halls again and get to know London more together!