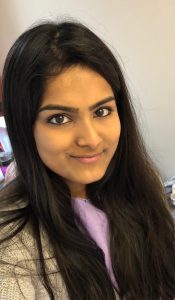 Hello friends, I'm Sumaiyah! I'm a second year student from Sri Lanka and I study Chemical Engineering.
In my first year at Imperial, I lived in Wilkinson Hall and had a wonderful time meeting and getting to know other students from all different backgrounds. I really look forward to experiencing it all over again here at Tizard, when I meet you freshers soon and help you to adjust to your new life on campus.
In my leisure time I enjoy being with my friends, going to the gym, being outdoors and exploring London. We live in a truly remarkable city, full of fun activities to do and places to see, and I encourage you all to find and pursue your interests here. London does not disappoint!
I'm here to make your stay at Tizard a happy and pleasurable one, so feel free to talk to me if you have any queries, problems or anything that may be troubling you. Nobody has to miss out on the fantastic experience that university life really is!