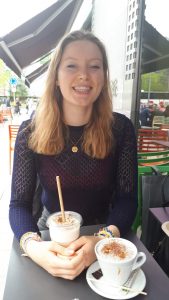 Hey everyone! Welcome to Tizard Hall! My name is Maylis and I'm a fourth year chemistry student.
I'm half French, half German but I grew up in Belgium and in the US. This is my second year as a hall senior (having been at Eastside in my first year) and I'm really excited to be part of this awesome community again.
Having been a fresher twice (!) – I spent a year studying ChemEng in Canada before coming to Imperial – I've experienced first-hand the fun, exciting and yet sometimes daunting adventures involved with being an international student. Whether you need help with finding the closest bank, signing up for Ethos or making good cookies, I'll try my best to help! 
Outside of the lab, I love to go climbing (either at Ethos or at Westway), do arts and crafts-y type things, go for a walk/run in Hyde Park or go out to eat some tasty food. London is a truly exciting place to live; whether you're a film enthusiast, keen musician or a dedicated foodie, there's always new things to try out and places to explore!
Feel free to knock on my door at any time, whether you want to have a rant about your lab experiment results, know which shops in South Ken sell the best ice-cream or simply have a chat. I'm really looking forward to meeting all of you! I hope you have a fantastic time while staying at Tizard Hall and exploring London with all of the amazing things it has to offer.